A growing throng of Central American migrants have resumed their advance towards the US border despite Mexican efforts to stop them.
Their numbers swelled to about 5,000 overnight and at first light they set out walking towards the Mexican town of Tapachula, 10 abreast in a line stretching approximately a mile.
It was not immediately clear where the additional travellers had materialised from since about 2,000 gathered on the Mexican side on Saturday night.
They seemed likely to be people who had been waiting on the bridge over the Suchiate River or in the Guatemalan town of Tecun Uman and who decided to cross during the night.
At dawn there were still an estimated 1,500 migrants on the Guatemalan side hoping to enter Mexico legally.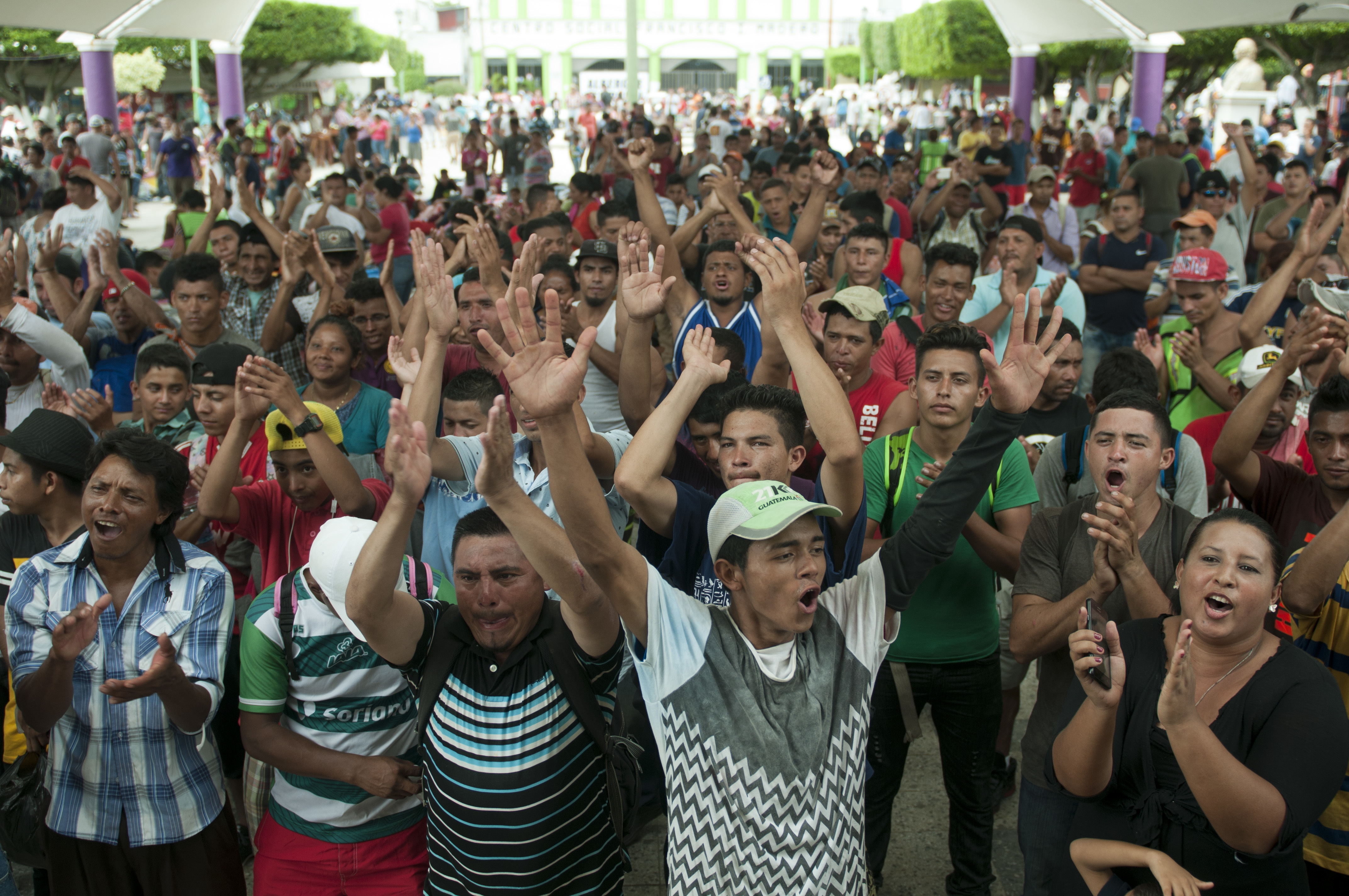 They marched on through Mexico shouting slogans like "Si se pudo!" or "Yes, we could!"
As they passed through Mexican villages on the outskirts of Ciudad Hidalgo, they drew applause, cheers and donations of food and clothing from Mexicans.
Maria Teresa Orellana, a resident of the neighbourhood of Lorenzo handed out free sandals to the migrants as they passed. "It's solidarity," she said. "They're our brothers."
Olivin Castellanos, 58, a truck driver and mason from Villanueva, Honduras, said he took a raft across the river after Mexico blocked the bridge.
"No one will stop us, only God," he said. "We knocked down the door and we continue walking." He wants to reach the US to work. "I can do this," he said, pointing to the asphalt under his feet. "I've made highways."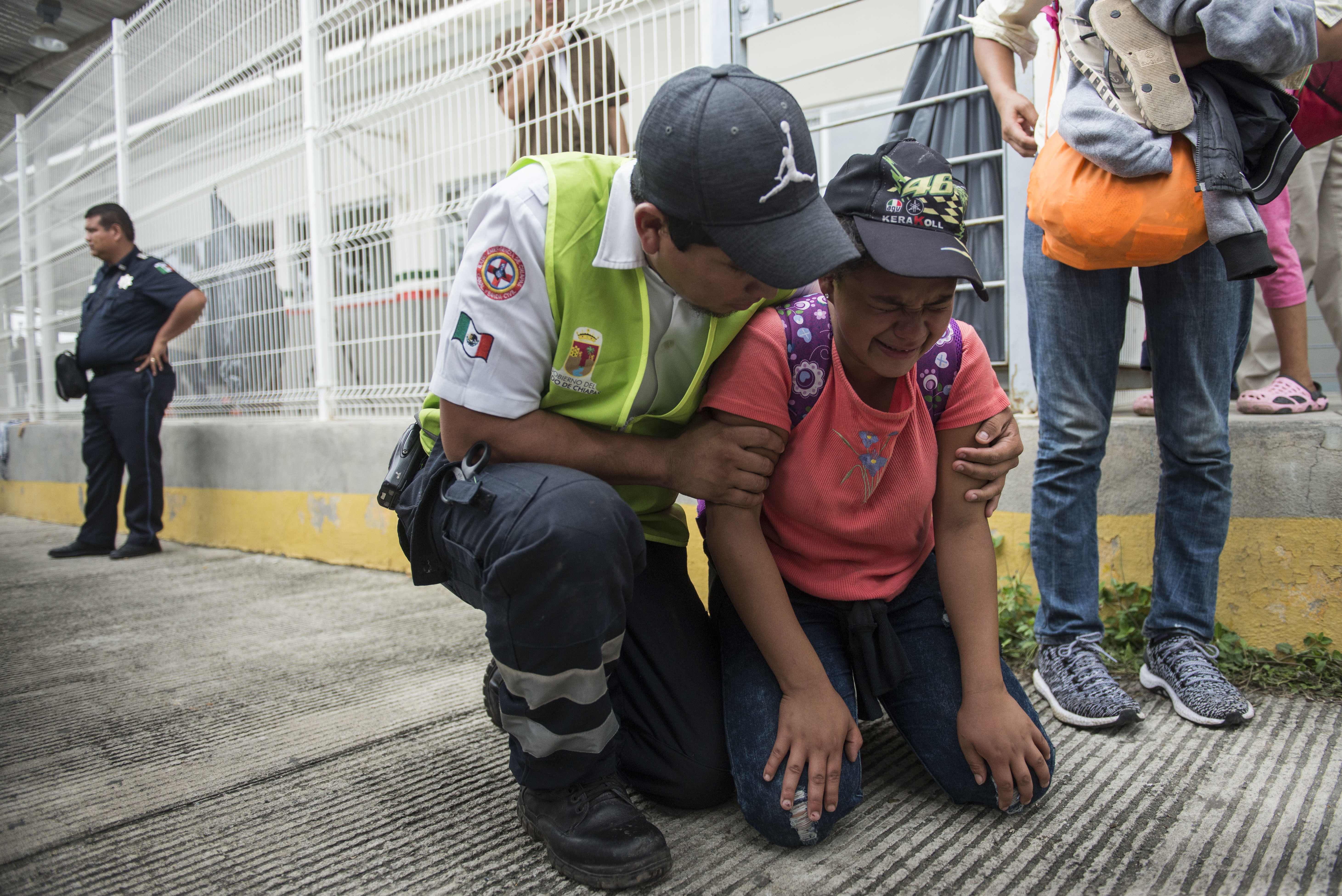 The migrants, who said they gave up trying to enter Mexico legally because the asylum application process was too slow, gathered on Saturday at a park in the border city of Ciudad Hidalgo.
They voted by a show of hands to continue north en masse, then marched to the bridge crossing the Suchiate River and urged those still on it to join them.
The decision to re-form the migrant caravan capped a day in which Mexican authorities again refused mass entry to migrants on the bridge, instead accepting small groups for asylum processing and giving out 45-day visitor permits to some.
Authorities handed out numbers for people to be processed in a strategy seen before at US border posts when dealing with large numbers of migrants.
But many became impatient and circumvented the border gate, crossing the river on rafts, by swimming or by wading in full view of the hundreds of Mexican police manning the blockade on the bridge.
President Donald Trump has criticised the Democratic Party over the mass movement of migrants.
He has seized on the caravan and border security as a campaign issue ahead of midterm elections in early November.
The president tweeted that "The Caravans are a disgrace to the Democrat Party. Change the immigration laws NOW!"
In a separate tweet, he said that "Full efforts are being made to stop the onslaught of illegal aliens from crossing our Souther (sic) Border."
Mr Trump added that the United States will turn migrants away if they do not apply for asylum first in Mexico.